All Your Digitizing Services in One Place
Current social scenario marks the upsurge of 'One – stop stores', where a customer or client is offered with the convenience of getting all his/her needs met in a single place. This avoids the exigency of multiple drives. The phrase originally has its roots in United states in the early 1930s,   has got multiple dimensions today. Its usage is extended to a wide range of contemporary fields including Communication, Business promotion etc. Even TV shows and Websites can be included under this label.
What are our present day commodities ?. Anyone can reach a conclusion without thinking much. It is undoubtedly the digital goods, which includes both technical resources and information.
How information becomes a commodity? A significant question, with its answer underlying. Today's business depends much on the exchange of information. Each strip of valuable information has its share in shaping the modern economics. It may be a series of codes creating a software program or an instructional write – up meant to scaffold the operation of something new. Another major portion is vested with the literature transactions. Digitisation of certain data (images, sounds, documents etc.) is yet another area in the information business.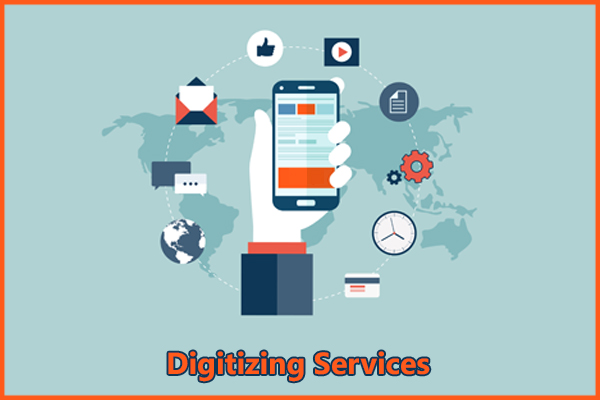 Digitising is converting any data into a digital format. The digital format can be a compact disc, the internet or any format which is compatible with hand – held electronic devices, with or without a print counterpart. Need for digitisation is at its peak now. Digitising data offers countless benefits. When you digitise a document, It –
can be easily stored
can have enhanced security
can be recovered quickly
will be more user-friendly
can be shared in no time
Saves space
It is now mandatory in many countries to provide digitised data under the right to information Act.
But where to find a proper service provider undertaking all sorts of digitising services is a worthy question. Many have this concern with them until they come to know about Ansh.com. Ansh is an all -round digitising service provider. A one – stop shop offering  digitizing services in all formats which include, E- publishing which is the publication of books, periodicals, bibliographic databases, and other information resources in digital format, Audio Books which record books orally helping people to listen to a story rather than reading it, Multilingual E- books or Multilingual Translation. Ansh is an ALL WOMEN TEAM providing reliable service for all sorts of ventures.
Read More