Sinhalese Language Translation Service
Sinhalese is language is the native language of the Sinhalese. More precisely, this language is spoken by the people who live in the southern part of Sri Lanka. The people, who live in Galle, Matara and Hambantota districts, speak in Sinhalese. Around 19 million people in Sri Lanka speak in the Sinhalese language. This language is also spoken in the Maldives. As a matter of fact, there is a constructive demand for Sinhalese Translation service, which is offered by the Sinhalese Translators in Sri Lanka as well as all over the World.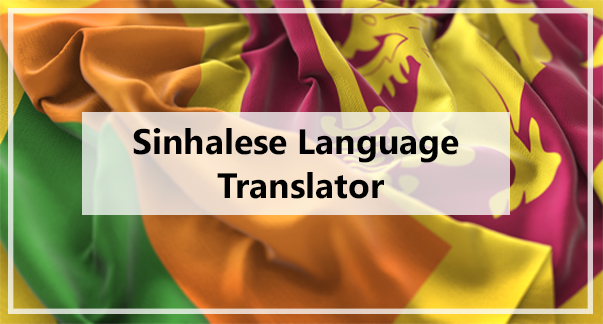 Sinhala is written with the use of Sinhala alphabet. It has been developed from Brahmi script. Earning proficiency as Sinhalese Language Translators is not also easy. Sinhala has various grammatical phonetic features which are complicated. So being accomplished in this language takes a lot of hard work and proficiency. Sri Lanka had been under the colonial rule of many countries like England, Germany, Portugal and Netherlands. The reflection of this socio-political background is seen in the field of translation services. The Sinhalese language is mostly translated into the languages like Portuguese, English, German and Dutch. Most of the Sinhalese Translators are seen leaving their home country and join different top quality companies to strengthen Sinhalese Translation Service.
Considering the translation services Ansh is a name that ensures the trust and quality of the clients. Ansh is an all-women organisation and has been running for last 37 years. The company has been a driving force in the field of translation service for last 10 years. Most important thing is that Ansh is highly proficient in furnishing the translation of uncommon languages like Sinhala. It has such expertise in the translation of uncommon languages like Sinhalese that Ansh has earned the faith and trust in extreme level from its clients.
Now Ansh has reached such position where it offers more than 2000 language pairs! The organisation in its last 10-year involvement in the field of translation service has been able to acquire confidence from more than 300 translation companies and government agencies. It is an official document. Above all, there are additional 300 companies who have kept trusting on Ansh.
But why do the companies rely on Ansh? Not only because it is an all-women organisation. The key reason behind their dependence on Ansh is that it provides best prices for its clients. Ansh has more than 15000 translators who are capable of delivering high quality and flawless translation. Among the groups of its translators, the experts in doing translations in the Sinhalese language are also there to offer the best quality job.
Along with the best price, being offered to its clients, Ansh plays an important role in the case of  Sinhala Translation Service. It works on a different domain and one of its key domains is legal section. In this field, Singala Language Translators, appointed by ones are so expert that they take the responsibility of translating text in detail so that the clients do not fall into trouble. Like all other translation services Ansh also furnishes video translation in the Sinhalese language. Along with this, Ansh offers translation from audio to text, from sub-titles matter to text and from text to sub-titles.
Apart from legal translation, ones also offer technical translation, marketing translation and website translation to its clients. Out of 15000 translators in its kitty for translation of different languages, Ansh has high-quality native Sinhalese Language Translators who are proficient in doing the job with precision. Along with doing legal translation, Ansh offers quality Sinhalese language translation services in the field of business and website translation also
Read More